Defence Force assisting with water issues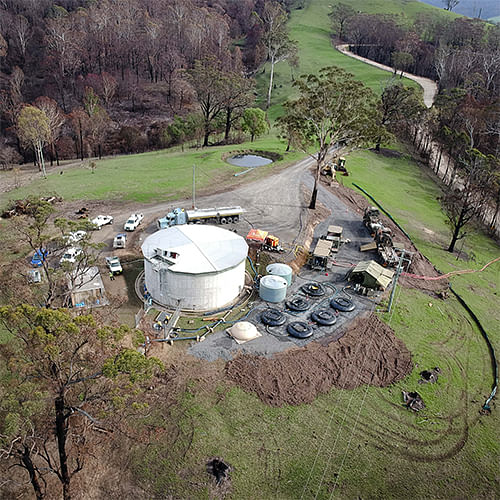 19 February 2020
The Australian Defence Force has stepped up and stepped in to assist Council in its ongoing efforts to continue to supply reliable and high-quality water to the northern part of our Shire.
On the back of the Brogo River/Brogo Dam catchment being largely burnt by the Badja Forest and Werri Berri Fires and the heavy rainfall in more recent times, the water available to feed the supply to Quaama, Cobargo, Bermagui, Beauty Point, Fairhaven, Wallaga Lake, Wallaga Lake Heights, Akolele and Wallaga Lake Koori Village has been extremely compromised.
As a direct result, Council last week took the extreme steps of commencing carting all the water used in the Brogo-Bermagui Water Supply System from Bega and introducing Level 4 water restrictions for this system.
In regard to the water carting program, this has meant up to a million litres (at a cost in the vicinity of $30,000) per day being trucked.
While Level 4 restrictions do remain in place, the Army's 2 Combat Engineer Regiment have continued the wonderful work of the ADF in our Shire by setting up their water purification and desalination system (WPDS) next to Brogo Tank One to help supplement the drinking water supplies.
Bega Valley Shire Council's Water and Sewer Manager, Chris Best, said the WPDS can turn any water source into fresh drinking water.
"Australian Army WPDSs are normally used to supply drinking water during major ADF exercises and deployments, but in this case, it will produce up to 400,000 litres a day (40% of our target volume) for the Brogo-Bermagui supply," Mr Best said.
"This will obviously dramatically reduce the cost to the community and be a terrific help while we continue to work on a longer-term solution.
"Brogo Dam is still overtopping, but the quality of the water in the catchment has improved massively over the past week after it was filled with sediment, ash, soot and debris following the rain; and the re-commissioning of Couria Creek Weir is complete.
"We are making great inroads, but we are planning on also installing a temporary filtration system as a further security measure.
"It is a somewhat perverse situation we find ourselves in as we are about to go to tender for the design and construction of a permanent water treatment plant for the Brogo-Bermagui system, which will provide additional critical control points and multi-barriers to water quality hazards and greatly reduce the reliance on treatments such as chlorine.
"The important thing at present though is we are still able to supply clean water to all our communities."
Under level 4 water restrictions, water may only be used outdoors for essential health and safety purposes. The use of water outdoors for garden watering, washing cars and boats, or for any other purpose is not permitted.
"Figures from the past week show that water use is down, and we can't thank the community enough for the effort that is collectively being made," Mr Best said.
"Please continue to think about how long you spend in the shower and how often you run your washing machine and dishwasher – every drop you save helps secure our water supply.
"We acknowledge the difficulty this situation has created for many people and businesses and we are very appreciative of your understanding and cooperation during this difficult and challenging time."
For more information on water across our Shire, visit www.begavalley.nsw.gov.au/water
Photograph: The ADF have set up a water purification and desalination system (WPDS) next to Brogo Tank One to help supplement the drinking water supplies.
LIVE with Chris Best, Council's Water Manager, with an update on Level 4 Water Restrictions for Brogo-Cobargo-Bermagui and surounding villages.
END
---
Rate This Page
---
Share This Page