Bushfire Recovery Bulletin #08
January 22, 2020
This update is being published daily to Council's website and Facebook page at 5pm to provide the community with an update on where the recovery effort is at.
You will also find channels to ask questions and get information.
As we move forward together information is key, and this will be one way of staying in touch during the weeks ahead.
Today's snapshot:
Minister's visit
The Minister for Water Resources, Drought, Rural Finance, Natural Disaster and Emergency Management, The Hon David Littleproud MP, was back in the Shire today.
He visited the severely fire impacted Eden Chipmill; met with business, economic development and tourism representatives; caught up with our Councillors and senior leadership executive group; dropped in on the Recovery Support Service; and was updated on the impact on the local agricultural industry.
The minister took the time give an overview of his visit and the Federal Government response more broadly – you can watch the interview here
Register Register Register!!!!
We are again imploring anyone who has been impacted by the fires in anyway to register with the Recovery Centre.
As a community we are a resilient bunch, however information and support are vital for the entire community as we move through the recovery phase.
In our travels we have come across many people who feel they haven't been as impacted as others and have expressed concerns about taking up services, however it is absolutely vital that the message gets out loud and clear that all the support agencies are equipped and staffed to help all those impacted.
The home base for the Recovery Centre is the Bega Valley Commemorative Civic Centre in Zingel Place Bega and is open from 9.00am – 5.00pm weekdays and from 10.00am – 4.00pm on weekends.
You can make contact on 6499 2345 or via email at recovery@begavalley.nsw.gov.au.
A range of services are available for you to meet with face to face, helping one step at a time.
Accessing the mobile service is another option, especially for those living in our more remote areas.
The Mobile Recovery Outreach Service is open between 10.00am and 2.00pm on the following days:
Quaama Hall - Tuesdays

Towamba Hall - Tuesdays

Bemboka Hall – Wednesdays

Wonboyn RFS Shed – Wednesdays

Cobargo Hall - Thursdays and Saturdays

Eden Log Cabin - Thursdays and Saturdays

Bermagui Community Centre - Fridays

Wyndham Hall - Fridays
Less haste with waste please
We fully understand the desire of those who unfortunately had their homes either destroyed or damaged to want to clear their blocks, but we are strongly advising that patience will result in a better outcome.
The NSW Government, through Public Works, have committed to clearing and disposing of all building demolition material at no charge.
This material cannot currently be accepted at any of our waste facilities due to the risks of asbestos contaminated material. We are working with all relevant agencies to address and manage this risk – more to come.
Blazeaid on the ground
The extraordinary BlazeAid team has arrived to set up camp in the Bega Valley promising to help farmers and landholders get back on their feet with fencing and recovery work.
Homebase for the volunteer work force will be Cobargo Showground.
To register call - Dean: 0408 080 932 (Coordinator), Andy: 0459 135 784, or email blazeaid.cobargo@gmail.com
Community meetings
The organic nature of the community support networks being set up across the Shire is really inspiring to see.
A key part of the work of these groups is organising community meetings and gatherings. A real focus for us is ensuring that everyone is receiving quality, accurate and timely information. In order to provide this is would be wonderful if you could email us at communications@begavalley.nsw.gov.au to request a visit and/or let us know about any planned events so we can provide key updates and help with publicity.
School cleaning
Contractors engaged to undertake the cleaning of the public schools in the south of the Shire have been granted permission to work outside of normal work hours.
The extension will enable the work, that will focus on the removal of ash and fire related debris, to be completed in time for the looming start of term 1.
That's right, holidays are nearly over kids!
Illegal dwellings and the bushfire recovery
Was your house built without Council approval? Has it been destroyed by fire?
Please don't be nervous about registering with the Recovery Centre for clean-up and demolition. You will be treated like everyone else.
If you don't register there is a risk you will fall through the cracks.
Come and see us. We're here to help and you'll be supported and not made to feel uncomfortable. It's very important for us to make sure that everyone who has been affected by the fires is able to receive support through the Recovery Centre.
If an entitlement to develop exists on a property, any new dwelling proposal will be assessed in accordance with current building requirements and will be eligible for any approved fee waivers.
In some cases, that land may not have a dwelling entitlement under today's planning legislation. Council is working with the NSW Government to explore options available to landowners in this situation.
Come and see us at the Recovery Centre in the first instance.
Thanks to the outdoor teams
The Acting GM was on the road south today to thank our outdoor teams for all the wonderful work they did during the bushfire emergency and subsequently as we move into the recovery phase.
Similar meetings are being held in Bega and Bermagui this week as well.
Want more info?
Bega Valley Shire Council is adding to our online recovery resources daily. Start exploring your needs at - https://www.begavalley.nsw.gov.au/Recovery_Support
Photo: These are the guys who helped keep the water on in Merimbula, Pambula and Eden during the height of the bushfire emergency. That is not to mention the other thousands of things big and small they did to support the community.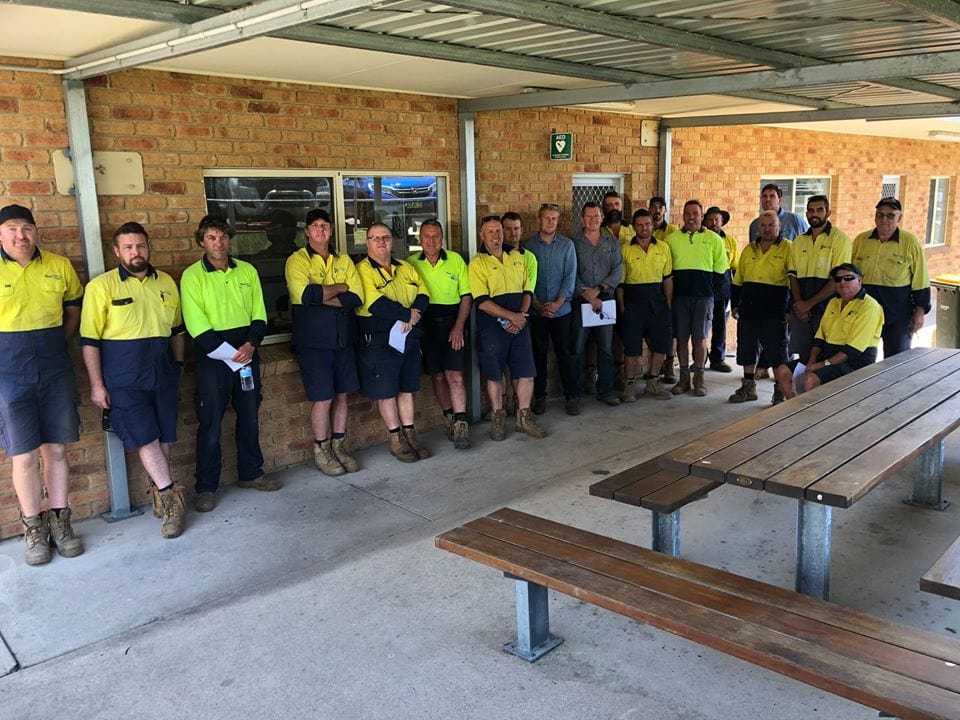 Related Pages
Bushfire Recovery Bulletin #08
---
Rate This Page
---
Share This Page