West Kameruka Road contract awarded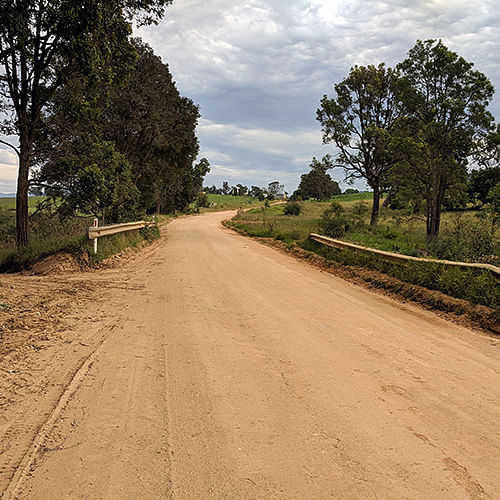 28 August 2019
A project to finalise the sealing of West Kameruka Road is set to commence after local firm RD Miller Pty Ltd was yesterday awarded the contract for the work.
Safety for residents and improving transport links are the key aims of a project that is being fully funded through a $3.5 million NSW Government Fixing Country Roads Program grant.
In making the funding announcement in late 2017, the Member for Bega, Andrew Constance, said that upon completion the project will provide great benefit for the community.
"Economic growth in rural areas relies on agricultural commodities, industrial products, natural resources and people being able to travel safely and efficiently, and this essential road upgrade will facilitate that," Mr Constance said.
Council's Director Assets and Operations, Anthony McMahon, said the generous funding from the NSW Government for several local projects is enabling road upgrades our community needs to be delivered.
"In the case of West Kameruka Road, we have been hearing from community advocates for over a decade and it is certainly nice to know that this work is set to commence," Mr McMahon said.
"The full scope of the project includes road alignment improvements, pavement strengthening, bitumen sealing, drainage upgrades and associated road furniture additions such as signage and guardrails.
"Overall safety will be greatly improved for road users (including the school bus), particularly during adverse weather conditions.
"Another benefit of this project is the provision of a key transport logistics link between the Snowy Mountains Highway and the southern parts of the Shire, in turn better facilitating access to the Cooma and Canberra economic markets and supporting tourism," Mr McMahon said.
Residents and property owners living on West Kameruka Road have been advised of key project milestone dates, the scope and extent of the project via a letter drop and further notification(s) will be sent out as required to provide updates on any potential impacts to property access during the construction period.
Enquiries regarding the sealing of West Kameruka Road can be directed to Council's Manager Property and Project Services, Daniel Djikic, on (02) 6499 2222.
Photo: A project to seal the remainder of West Kameruka Road is set to commence.
END
---
Rate This Page
---
Share This Page