Bega Valley Shire at National General Assembly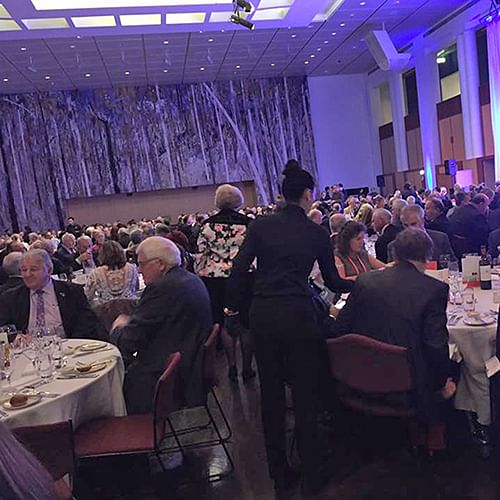 Friday, 23 June 2017
Bega Valley Shire Council has been an active participant in this week's National General Assembly of Local Government in Canberra.
Over 800 delegates took part, including Bega Valley Shire Mayor Kristy McBain, and General Manager Leanne Barnes, as well as Councillors Dodds, Tapscott, and Griff.
The Assembly is the premiere event on the local government calendar and is an opportunity to debate issues of national significance, hear from political and academic speakers as well as develop policy and fiscal strategy for the coming year.
"The announcement about Roads to Recovery now being permanent from Senator Fiona Nash was very welcome and important to our Shire," Cr McBain said.
"The Roads to Recovery Program which has been responsible for so much good work in our region will be ongoing and not cease in 2020 as previously planned. This recognises that local government is responsible for the majority of infrastructure across the country yet only receives a relatively small proportion of the Federal tax yield," she said.
The Assembly considered and voted on over 90 motions put up by councils across Australia. Bega Valley Shire has been well represented and vocal about issues including banning plastic bags and helium balloon releases, issues impacting on Indigenous communities, disaster recovery and mental health funding.
Bega Valley Shire Council's motion was endorsed by delegates, "That the National General Assembly call on the Federal Government to commit to a fully funded Mental Health Agreement that reflects a whole of government approach."
"Through the work of groups like the Bega Valley Suicide Prevention Action Network, Council is aware of the need for a more coordinated approach across the different agencies in the Shire to achieve whole of life outcomes for people," Cr McBain said.
"Some 62,000 Australians take their lives each year, which has a devastating impact on communities like ours."
One of the key themes of the Assembly was the level of funding tied to the annual Federal Assistance Grants.
"Local Government needs its fair share. Under the Howard Government the sector received 1% of all Federal taxes which has now been reduced to 0.55% resulting in a $975 million loss across Local Government, it's critical we address this," Cr McBain said.
All four attending councillors and the General Manager will feed their experiences and learnings into current Council processes including the 2017/18 Delivery and Operational Plans currently being assessed.
Photograph: Delegates dinner in the Great Hall at Parliament House, Canberra
- END -
---
Rate This Page
---
Share This Page
---