Bega Valley Bushfires - six months on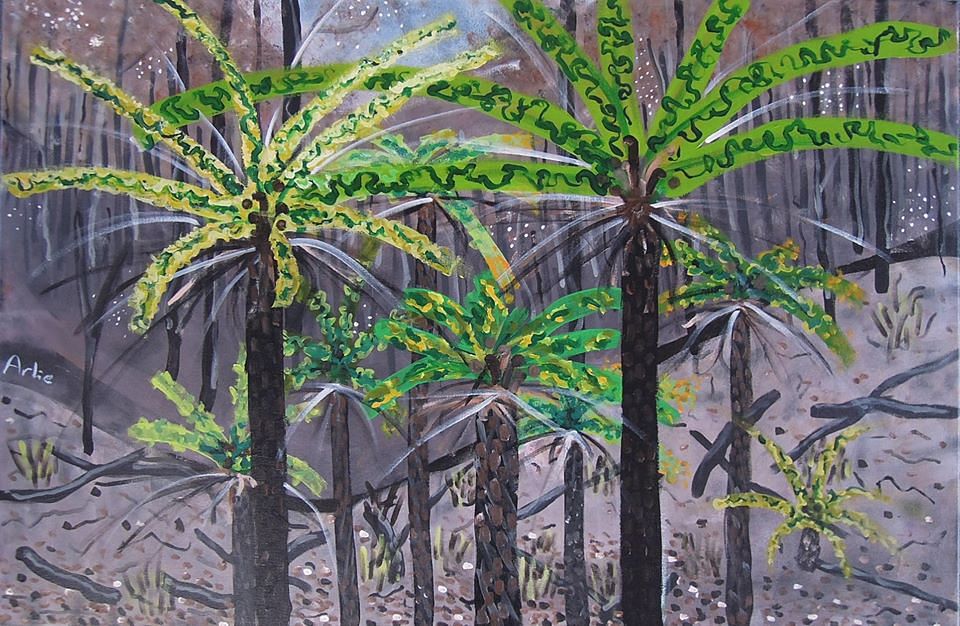 Artwork: Tree ferns of the Towamba Valley reshoot after fire. By Arlie at Towamba Public School.
8 July 2020
We find ourselves at the six month mark in our long, emotional and complex bushfire recovery journey. Milestones like this are reason to reflect on where we have come from and where we are headed.
"Our community has achieved so much together, we can be proud of and take strength from that as we face the next six months and the even longer journey to come," said Mayor Sharon Tapscott.
Four hundred and sixty-six homes along with around 1,000 sheds and out buildings were lost in the flames of December, January and February.
"The size and complexity of the situation we all find ourselves in is like no other, however, communities north, west and south in the Bega Valley can be reassured Council and our Recovery Support Service will be with them at every step for the months and years ahead," Cr Tapscott said.
Over 1,900 people and families have registered with the Recovery Support Service and our growing team of caseworkers is supporting each depending on their level of need.
Council has also taken the lead on better coordination of the other recovery agencies and services as well as advocating to the State and Federal Governments for unmet needs and streamlined processes.
"I am delighted that our caseworkers and other agencies are now better able to move around the community again as the COVID restrictions ease," Cr Tapscott said.
"And right through July people are invited to reconnect at one of our coffee and chat sessions, starting with Quaama and Towamba this week."
The State and Federally funded clean-up of destroyed properties is moving ahead with Laing O'Rourke dispatching over 30 teams to get the job done. The NSW Government advises that most of the clean-up should be completed by the end of July.
"One of the issues we are seeking to have addressed is the disposal of the large amount of burnt material such as fencing waste and vegetation that falls outside of the scope of the current clean-up," said General Manager, Leanne Barnes.
"We have increased our capacity at the Central Waste Facility in response to the clean-up, but a significant amount of material remains for our community to dispose of and we want to support them with that.
"We have written to the relevant ministers but as yet meeting those costs has not been addressed."
That said a huge amount of work has been completed removing dangerous fire affected trees and debris from roadsides and restoring access to properties. Many local contractors have gone above and beyond to help us meet these challenges.
Significant work is being undertaken now preparing delivery programs focussed on reinstating the remaining access and service impacts.
"We are very happy to have engaged Architectural Design Consultant Tim Lee from the NSW Regional Branch of Australian Institute of Architects, who will provide valued expertise and work actively with the community to lead the design and redevelopment process of projects like the Kiah and Wandella halls and the Cobargo public toilet," Ms Barnes said.
Many people see rebuilding their destroyed property as a priority, while others take time to consider and reflect on their options.
"Everyone has an individual set of circumstances and way of dealing with this and we all need to respect the choices people make along the way and be ready to assist," Ms Barnes said.
So far 55 bushfire related development applications have been received with 45 processed by our expert planning staff covering dwellings, sheds, and retaining walls.
"Council has waived development application fees for all impacted properties and I know that is being well received," Ms Barnes said.
"Staff are also working with landholders where a path to a dwelling entitlement is not as clear as most and positively identifying the options people have."
While the impact of bushfire is obvious and clear across much of our landscape, what is harder to see is the economic toll. The impact of the bushfires was significant and valued at over $250 million in the Bega Valley.
"And on top of that we've had Coronavirus, this disruption will have significant effects for years to come and we need to ensure bushfire affected businesses are not forgotten," Cr Tapscott said.
Three key sectors – dairy, forestry, and tourism have all received assistance, though in many cases, more is needed.
The Bega Valley Innovation Hub's Phoenix Program assisted a wide range of businesses to adjust and be more resilient. This is also being supported by an Ernst & Young Virtual Business Drop in Centre with more business support programs being planned.
"Ensuring support for all impacted sectors is forthcoming is critical, for example, the needs of non-dairy agriculture, are yet to be properly addressed. We are advocating strongly for better support for beef, sheep, pig, and poultry farmers and we believe support may become available in the near future," Ms Barnes said.
Through early industry engagement and input, Council is also coordinating a new tourism events initiative aimed at building capacity within existing local events and creating new reasons for people to visit the region.
"At this point in our journey it's also important to thank those amongst us at places like Kiah, Towamba, Wyndham, Bemboka, Quaama, and Cobargo who have stepped up in the midst of their own pain to help others," Cr Tapscott said.
"This is truly a remarkable community and we will look back at this chapter in our history proud of the support we have offered each other.
"Can I also acknowledge our partner agencies – Service NSW, Resilience NSW, Red Cross, Local Land Services, Anglicare, BlazeAid, Catholic Care, Salvos, the Business Council of Australia, NSW Health and many others. Locals are at work in many of these agencies driving services from within."
Ms Barnes added, "This experience has also highlighted the strong relationships between local, state and federal governments. The support of Andrew Constance, John Barilaro and Mike Kelly has been critical."
"We have also had the ear and backing of the National Bushfire Recovery Agency which will be key in our recovery for a long time to come."
At the six month mark, Council has also updated its online recovery resources to coincide with the reboot of face to face and printed services.
The Bega Valley Together webpage is designed to be the 'go to' place for bushfire recovery news, information, support and community.
"The ideas, needs and projects that come from community are as unique as each community and need to be supported by government and community organisations," Ms Barnes said.
Bega Valley Together is our commitment to community led recovery; to inform, assist, support and empower residents.
"Let's make sure we continue to support one another, share information, stories and experiences as we face these challenging and uncertain times," Cr Tapscott said.
"And it's important for the community to know that Council is calling for a full review of the Disaster Recovery Funding Arrangements and a commitment to implementing the key findings from the Royal Commission into National Natural Disaster Arrangements. We need to learn the lessons of this experience and turn that into meaningful change."
The Bega Valley Bushfire Recovery Support Service offers case management and person to person support for everyone impacted by the 2020 Bega Valley Bushfire. It is confidential and free, linking you to a wide range of services. Phone 02 6499 2345 or email recovery@begavalley.nsw.gov.au
Related Pages
Bega Valley Bushfires - six months on
---
Rate This Page
---
Share This Page