Curing added to FOGO compost process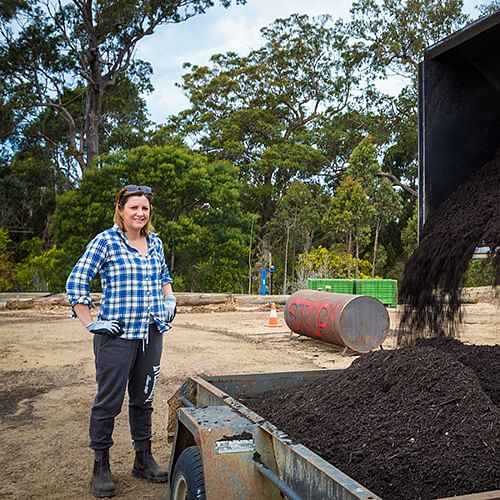 17 September 2019
Bega Valley Shire Council's FOGO compost might not be available until summer due to the introduction of curing into the composting process.
The Council's organics team has introduced a several-month curing period before releasing the popular product for sale after reports that fluctuating pH levels were creating problems for some home gardeners.
Waste management coordinator, Joley Vidau, said the decision was made to not release new batches of compost after supplies ran out mid-year to allow for curing time.
"After investigating further, we have traced the problem to fluctuating pH levels. We were trying to meet the large demand for quality FOGO compost and so let a few 'young' batches out to the public," Ms Vidau said.
"All the compost we sell meets the necessary testing requirements, but recent 'young' batches of compost have put gardens under stress.
"We realise the community will be disappointed not to be able to access FOGO compost for their spring gardening programs, since it usually sells out quickly once it hits the market.
"People are waiting anxiously for more compost to be available and we are sorry for the delay, but your gardens and all the public reserves and parks where we use the compost will be even better off if we take the time now to get this right.
"We are so proud of our FOGO compost and we want to make sure that in the long-term we are supplying the highest possible quality product to our community," Ms Vidau said.
Council will also be providing extra information to help people apply their compost most effectively – there is a compost fact sheet on Council's website and we welcome questions to the Bega Valley Waste and Recycling Facebook page.
Gardening workshops are also being planned to help our community get the most from their FOGO compost.
For more information about FOGO compost visit www.begavalley.nsw.gov.au/waste
Photograph: Mayor Cr Kristy McBain picks up a load of compost from the Merimbula organics processing facility for her garden.
END
Related Pages
Curing added to FOGO compost process
---
Rate This Page
---
Share This Page