Coastal weeds project reaches 10 year milestone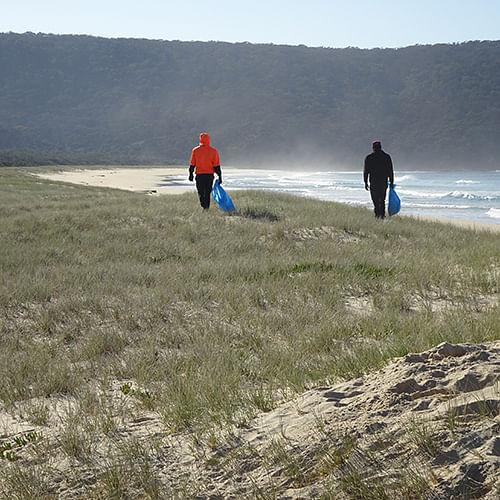 29 August 2017
Ten years ago our beaches were a different sight to what you see now.
They were infested with weeds like Sea Spurge and African Daisy, but as we head towards the summer of 2017/18 beaches like Merimbula and Pambula are now almost weed free.
The situation a decade ago on beaches and dunes between Bermagui and Eden led botanist Stuart Cameron to take action. A partnership with Aboriginal Lands Councils, Local Land Services, Far South Coast Landcare, National Parks and Wildlife Services, and Bega Valley Shire Council was born. A collaboration that now celebrates 10 years of work.
Under Mr Cameron's leadership, the 'Protecting the Wilderness Coast' project drew on the people power and environmental passion of Landcare Groups and the three Aboriginal Land Councils – Merriman's, Bega and Eden.
Each spring and autumn a 'sweep' for weeds and litter along local beaches and estuaries has taken place, funded by the NSW Environmental Trust, and matched by contributions from Bega valley Shire Council, Local Lands Services, and National Parks and Wildlife Service.
"The pressure from weeds is relentless," Mr Cameron said.
"They swiftly take advantage of any lapse in attention and effort, as any gardener well knows!"
Volunteer groups that once expended most of their energy pulling out and battling weeds are now able to turn their attention to more rewarding tasks, such as Bermagui Dunecare's extensive planting program at Cuttagee.
"A large number of Aboriginal workers have gone on to full time work in natural resource management with skills in plant identification and weed control techniques," Mr Cameron said.
Some, like Muriel Campbell and Yuin Kelly from Merriman's Land Council are veterans who have been with the project since the very start and watched the transformation take hold year by year.
"Another great benefit has been the removal of almost 70 cubic metres of litter from our beaches," Mr Cameron said.
"A huge collection of plastic and glass bottles, plastic bags, balloons, polystyrene, footwear, fishing line and debris, all of which have the potential to harm marine life and seriously injure beach goers.
"Fortunately the trend in litter volume is downwards," Mr Cameron said.
Daniel Madigan, Environmental Services Manager said that Council has been proud to support the project to date.
"This project has been so successful that it has been extended to the Eurobodalla Shire," Mr Madigan said.
"It deserves to be replicated nationally."
Funding from the NSW Environmental Trust will cease shortly and alternate funding sources are being explored.
"Bega Valley Shire Council has contributed $25,000 a year to the project and I am hoping our partners are keen to keep going," Mr Madigan said.
"This project strongly demonstrates the power of community. We have achieved something remarkable together over the last 10 years, unique in New South Wales," Mr Cameron concluded.
Photograph: A sweep in progress at Wonboyn.
Photograph credit : Chris Post – FSC Landcare
END
Scroll down to Like | Share | Comment on this page
---
Rate This Page
---
Share This Page
---