Closure of Bridge Street, Bega
Thursday 22 October 2015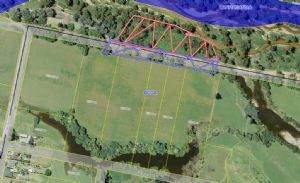 Bega Valley Shire Council in conjunction with Local Land Services and Bega River and the Wetlands Landcare Group will be removing bamboo between the Bega River and Bridge Street, Bega, from 2 to 6 November.
Bamboo, a rhizome, is an environmental weed, extremely invasive and send out horizontal roots that choke out natural flora.
Bridge Street will be closed to all traffic between Auckland Street and East Street from Monday 2 November to Friday 6 November between 7am and 4pm.
There will be no pedestrian access via the shared footpath during these times, although access to the reserves will still be available.
The bamboo will be removed and mulched and the area sprayed when the new shoots begin to develop.
Council apologises for any inconvenience this may cause.
For more information phone Cliff Shipton on 0429 024 182.
END
---
Rate This Page
---
Share This Page