Costa to live stream to celebrate FOGO compost release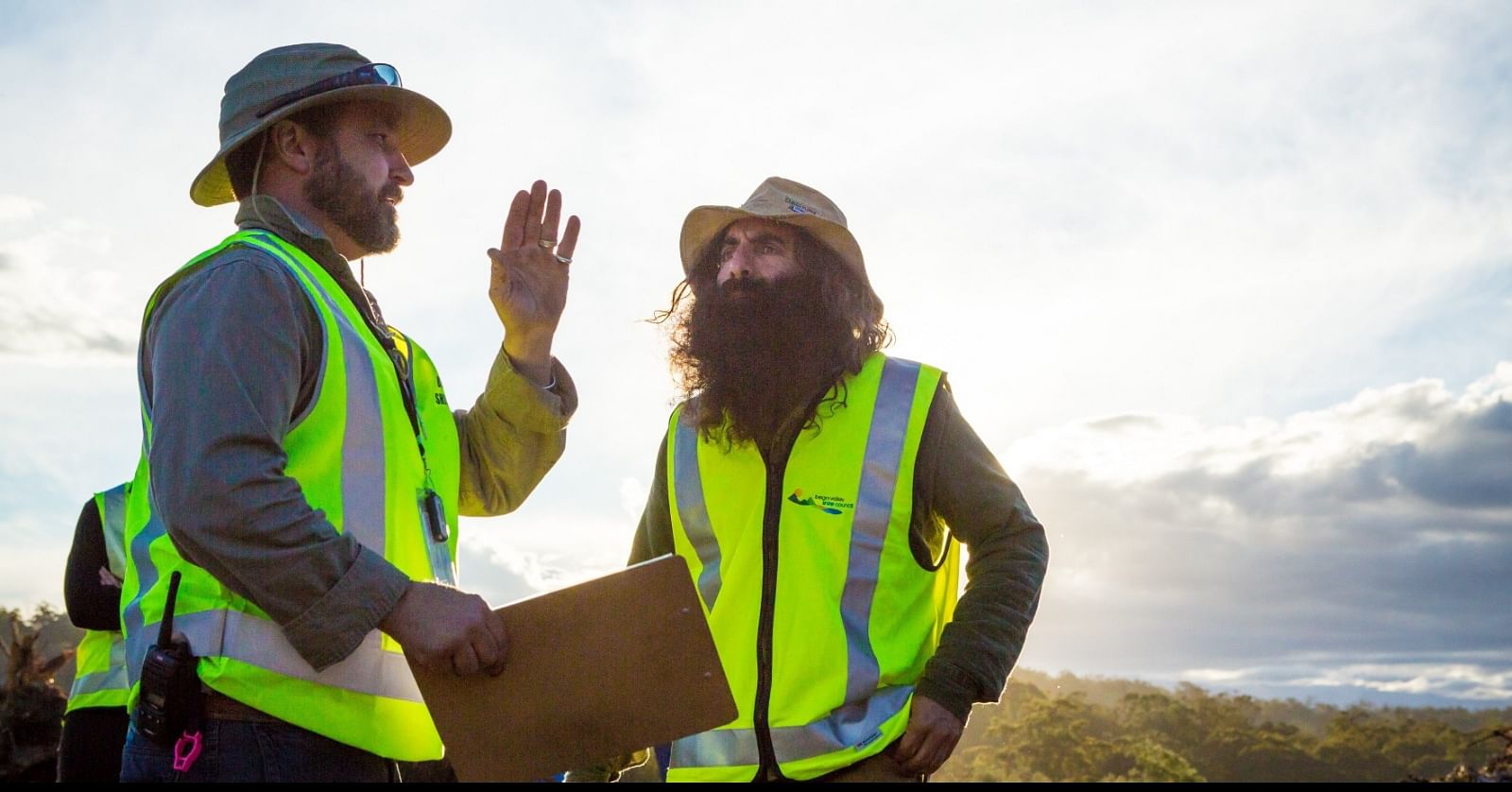 Photo: Costa Georgiadis talks FOGO Compost with Council's Mick Yarra during a tour of Merimbula Organics Processing Facility when Bega Valley Shire Council introduced FOGO in 2018.
11 June 2020
Bega Valley Shire Council's FOGO Ambassador and Gardening Australia TV host Costa Georgiadis is tuning in live to the region today to celebrate the release of new compost to the community.
FOGO compost will be available from Monday (June 15) at the Merimbula, Wallagoot, Eden and Bermagui tips.
Costa, who played a key role in Council's introduction of the FOGO (Food Organics Garden Organics) bin collection service, will live stream via his Facebook page at noon to talk to Organic Processing Coordinator Mick Yarra.
Local horticulturalist Brent Whiter from ABC South East's Saturday gardening talkback program will also be part of the live stream from Plants Plus Nursery in Tura Beach.
Acting waste manager Joley Vidau said Council was fortunate to be able to tap into Costa's broad knowledge of the benefits that FOGO brought to the community. She said he would also share compost gardening tips via the live stream.
"Costa has been a really big part of the Bega Valley's transition into FOGO – his passion and enthusiasm for this community is something we value very highly. We encourage as many people as possible to tune in to chat with him, ask questions and just say hello," she said.
The compost is processed at the Merimbula Organics Processing Facility and is available for sale by the trailer load. Payment is by card only.
Council estimates 500 cubic metres will be available each month. To keep updated on compost availability you can download the free Bega Valley Waste APP.
Ms Vidau said extra signage and information was also available to help the community get the most from their compost.
"Council is recording some short videos with tips on using the FOGO compost which people can view on the Bega Valley Shire Council and Bega Valley Waste and Recycling Facebook pages," Ms Vidau said.
"The organics processing team will also take regular pH tests and we have fact sheets and information flyers available at the four collection sites. People can also visit Council's website and download the waste APP for information."
Costa said compost was an essential ingredient in winter gardening projects in helping build soil health in preparation for warmer temperatures.
"Winter is a great time of year to spread compost over your garden beds and cover with a winter mulch, such as chopped leaves. By spring, soil organisms will have worked the compost into the soil ready for your spring gardening projects and it helps build up your soils so they're more resilient to the higher temperatures of summer," he said.
The Council's organics processing team introduced curing into the composting process last year to address fluctuating pH levels. The Council has also expanded its compost processing facility to make way for the increased food and garden waste from the FOGO bin collection service.
---
Rate This Page
---
Share This Page