Bushfire Recovery Bulletin #07
January 21, 2020
Boil Water Notice Lifted – Quaama, Cobargo, Bermagui and Wallaga Lake area
NSW Health has advised that the boil water notice for Quaama, Cobargo, Bermagui, Beauty Point, Fairhaven, Wallaga Lake, Wallaga Lake Heights, Akolele and Wallaga Lake Koori Village can be lifted.
The news follows improved chlorine and turbidity levels across the water supply system and recognition from NSW Health for Council's management of the system.
The lifting of the boil water notice occurs immediately. Water from the tap no longer needs to be boiled for any purpose in these areas.
The boil water notice was introduced on Tuesday, December 31 due to the loss of power to chlorination facilities at Brogo due to the impact of the Badja Forest Road fire.
Council's Network Operations Superintendent of Water and Sewerage Services, Bruce Powell says generator power enabled chlorination to be reinstated soon after the fire on New Year's Eve.
"Water quality from Brogo River remains high and has yet to be affected by the fire in the catchment, being able to stabilbilse chlorination and turbidity adds to our confidence," Mr Powell says.

"However, we'll be monitoring it very closely, particularly following rainfall.

"There are some uncertainties around what the impact of future rainfall in the catchment will be on water quality at the pump station downstream from Brogo Dam. It is likely that there will be an increase in turbidity which will pose challenges for disinfection.

"A strategy for this is being developed and processes put in place now in consultation with NSW Health," he says.
Looking further ahead, the episodic re-introduction of boil water notices may be required over the coming 12 months as dam water levels and the catchment recover.
Brogo Dam is currently at around 11% capacity and approximately 50% of the catchment has been affected by fire. WaterNSW reduced water releases from the dam earlier this month primarily for town water supply.
"We understand the inconvenience caused by having to boil tap water and we will be doing everything we can to minimise boil water notices," Mr Powell says.

"The cooperation and understanding of all people affected by boil water notices is very much appreciated."
Council has secured $10 million in funding from the NSW Government to construct a treatment/filtration plant on the Brogo – Bermagui system which will lessen the need for boil water notices in the future.
Planning for that project is ongoing.
A boil water notice remains in place for the Bemboka community, regular water testing is taking place in consultation with NSW Health.
As dry times continue, further shire wide water management is on the Council meeting agenda for February.
Water usage during the fire emergency
At the peak of the shire's bushfire emergency many residents used more water they they normally would to protect and defend their property.
Council is very away of the anxiety many are feeling about receiving their next water bill.
We are currently considering how best to manage the impacts of recent fire events on water usage and ways to help the community and council handle the increased costs.
A range of fire related measures to ease the cost impact of bushfire recovery on the community will be considered at the January 29 meeting of Council.
The meeting agenda and the ideas up for consideration will be available on Council's website later this week.
Update from Essential Energy
Currently, 525 homes and businesses are without power in the Bega Valley. These customers are located in Bemboka, Quaama, Verona, Cobargo, Wandella, Yowrie, Coolagolite, Brogo, Eden, Edrom, Kiah, Wonboyn, Towamba and surrounding areas.
The electricity network supplying power to these customers has been significantly damaged and in many cases, needs to be completely rebuilt. The much needed recent rain has unfortunately further complicated and slowed repair work.
Essential Energy has been in touch with the majority of customers to discuss estimated times of restoration, current power arrangements and how Essential Energy can be of assistance, with portable generators and fuel vouchers being offered.
Customers who require information specific to their needs or assistance, should contact Essential Energy's Customer Contact Centre on 13 20 80. Our Contact Centre is available 24/7.
Princes Highway update
Work continues to clear the Princes Highway south of the Victorian Border.
The time frames around making the road safe again continue to change as the extent of the job is assessed.
All involved understand the impact the road being closed has on the community's well being, the economy, transport and travel. Making the highway safe again is a priority.
The Princes Highway is currently closed at Wonboyn Road, local traffic only is being allowed into Genoa and Mallacoota.
Blazeaid hit the ground
The extraordinary BlazeAid team has arrived to set up camp in the Bega Valley promising to help farmers and landholders get back on their feet with fencing and recovery work.
Homebase for the volunteer work force will be Cobargo Showground.
A meeting will be held tomorrow (Jan 22) at 9:30 am at Cobargo Showground for landholders keen to make the most of the offer of help and register.
Or call - Dean: 0408 080 932 (Coordinator), Andy: 0459 135 784, or email blazeaid.cobargo@gmail.com
Illegal dwellings and the bushfire recovery
Was your house built without Council approval? Has it been destroyed by fire?
Please don't be nervous about registering with the Recovery Centre for clean-up and demolition. You will be treated like everyone else.
If you don't register there is a risk you will fall through the cracks.
Come and see us. We're here to help and you'll be supported and not made to feel uncomfortable. It's very important for us to make sure that everyone who has been affected by the fires is able to receive support through the Recovery Centre.
If an entitlement to develop exists on a property, any new dwelling proposal will be assessed in accordance with current building requirements and will be eligible for any approved fee waivers.
In some cases, that land may not have a dwelling entitlement under today's planning legislation. Council is working with the NSW Government to explore options available to landowners in this situation.
Come and see us at the Recovery Centre in the first instance.
Recovery Centre and Outreach Service
You can contact the Recovery Centre on 6499 2345 or email recovery@begavalley.nsw.gov.au
Home base is the Bega Civic Centre, which is open Monday to Friday from 9am – 5pm and weekends from 10am – 4pm, drop in.
A range of services are available for you to meet with face to face, helping one step at a time. A kids space with supervision is also available.
Accessing the mobile service is another option, especially for those living in our more remote areas.
Mobile Recovery Service Timetable:
Quaama Hall - Tuesdays from 10.00am – 2.00pm

Towamba Hall - Tuesdays from 10.00am – 2.00pm

Bemboka Hall - Wednesdays from 10.00am – 2.00pm

Wonboyn RFS Shed - Wednesdays from 10.00am – 2.00pm

Cobargo Hotel (until further notice) - Thursdays and Saturdays from 10.00am – 2.00pm (updated times 20 Jan)

Eden Log Cabin - Thursdays and Saturdays from 10.00am – 2.00pm (updated times 20 Jan)

Bermagui Community Centre - Fridays from 10.00am – 2.00pm

Wyndham Hall - Fridays from 10.00am – 2.00pm
Want more info?
Bega Valley Shire Council is adding to our online recovery resources daily. Start exploring your needs at - https://www.begavalley.nsw.gov.au/cp_them…/default/page.asp…
PHOTO: Dean and Andy from BlazeAid.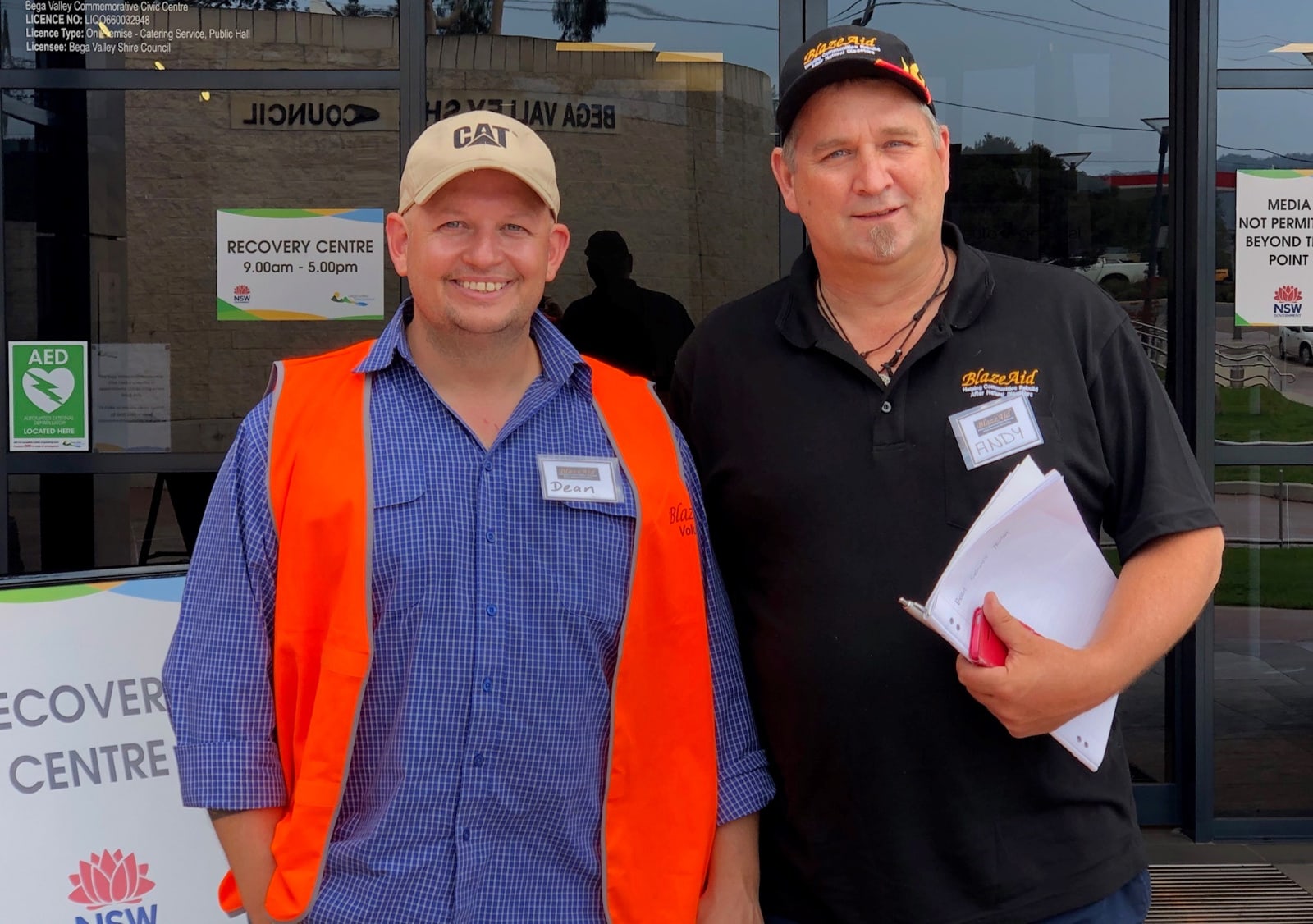 Related Pages
Bushfire Recovery Bulletin #07
---
Rate This Page
---
Share This Page